團體活動
23/11 (星期六) 上午十時至 下午五時
Peter Canisius House 102 Mona Vale Road Pymble
將臨期靈修活動在戰爭中的和平使者,聖方濟和蘇丹王會晤(當聖人遇上穆斯林,在動盪的時代中蹄造和平。)講者: Fr Harry Chan OFM領祈禱: Sr Damian Lai查詢及報名請聯絡Angela Mui 0425 392 937 or Candy Lui 0437 695 744 or email to This email address is being protected from spambots. You need JavaScript enabled to view it.因租用場地,人數有限,如欲參加,請於十一月四日前報名。若需要交通接送,請在報名時通知。免費午餐供應,歡迎捐獻。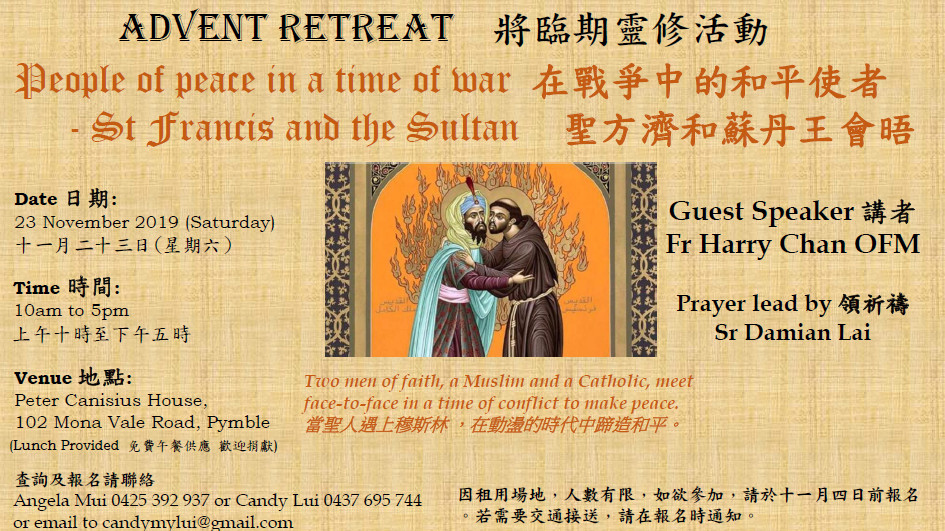 24/11 (星期日) 下午二時半
與基督同行──雪梨總主教區於聖體聖血節舉辦週年巡遊活動。我們誠邀各位信友參與這項顯示我們天主教信仰的活動。雪梨教區為各團體準備一本生命冊,讓各教友寫上祝福語和祈禱意向,並於十一月二十四日的聖體聖血節遊行後的彌撒中奉上,現在這本生命冊會放在聖堂門外,歡迎各教友寫上為個人或團體的祝福語和祈禱意向。集合地點: Corner of Pitt St and Martin Place
傳道員組現舉辦「生活/信仰分享聚會」,每第二及第四主日早上 9:45-10:45 於 SPJ 課室舉行,聚會中有短片欣 賞,歡迎非教友前來探討基督宗教及教友前來分享信仰心得;下次聚會日期是 10 月 27 日,主題是「信的根 源」誠意邀請大家參加。
歡迎來自台北教區的洪幕雅修士,他會在我們團體六個月實踐牧民工作。
你有臉書戶口嗎?天主教華人牧靈團體臉書群組再次啟動,歡迎各位加入成為會員。會員可以透過這群組知 道團體的活動和訊息、閲讀信仰分享和與其他教友連結和互動。群組也是一個很好的分享平台,大家可以透 過群組上載信仰資訊 (經批准),與其他教友分享! 不好遲疑,今天就去臉書搜尋 CCPC 群組! https://www.facebook.com/groups/309539298626/ 查詢,可以聯絡 Candy Lui 0437 695 744 or This email address is being protected from spambots. You need JavaScript enabled to view it.
請各駕車人仕進出亞洲中心時留意行人的安全,特別是離開亞洲中心時,請遵守「停」路標的指示,以免發生意外,多謝合作。
2019/20 粵語成人慕道班已截止收生;新班將於明年二月開課,詳情請向周先生 0403 589 375 / 陳先生 0422 231 328 / 盧太 0410 342 890 查詢。
中文天主教教義函授課程是為不能抽空出席慕道班的人士而設。請介紹親友參加。有興趣者請向鄧女士 (0401 058 199)查詢。
再慕道聚會星期日下午一時半在聖伯多祿朱廉教堂二樓議室舉行。 歡迎各位參加。
Upcoming Events
23/11 (Sat) 10am-5pm
Peter Canisius House 102 Mona Vale Road Pymble
Advent Retreat People of peace in a time of war - St Francis and the Sultan(Two men of faith, a Muslim and a Catholic, meet face-to-face in a time of conflict to make peace.)
Guest Speakers: Fr Harry Chan OFM
Prayer lead by: Sr Damian Lai
For enquiry & registration, please contact Angela Mui 0425 392 937 or Candy Lui 0437 695 744 or email to This email address is being protected from spambots. You need JavaScript enabled to view it.Seats are limited, please register before 4th Nov. If require transportation, please let us know.Lunch will be provided. Flyer
24/11 (Sun) 2:30pm
Walk with Christ -The feast of Corpus ChristiYou will find the "Book of Life" at both Asiana Centre and SPJ. You are welcome to write prayers and petitions for yourself and for our community. This "Book of Life" will finally be presented on the Feast day of Corpus Christi at St Mary's Cathedral. Please join thousands of other Catholics to 'Walk With Christ' in the annual Eucharistic Procession on the Feast of Corpus Christ. Let your presence make a statement about the gift of the Eucharist for the world.Meeting place: Corner of Pitt St and Martin Place
Adult Catechist Group is organizing Life and Faith Sharing every 2nd and 4th Sundays from 9:45-10:45 at SPJ classroom, a short video clip will be shown at each meeting. All of you, believers and non-believers are welcome to join in. The topic for next meeting on 27/10 will be "The cause for Faith". See you there.
Welcome Brother Muya Hong, the seminarian from Archdiocese of Taipei to our community. He will stay with us for six months for his pastoral care practicing.
Do you have a Facebook account? Chinese Catholic Pastoral Community (CCPC) has re-launched CCPC Facebook community group. Group members will have access to community news, faith sharing article and connecting to different members. You can also post faith-related article to the group upon approval. Here is the group link: https://www.facebook.com/groups/309539298626/ Please join us. Any questions, please contact Candy Lui 0437 695 744 or This email address is being protected from spambots. You need JavaScript enabled to view it.
Please beware of pedestrians when driving in and out of Asiana Centre. Strictly observe the STOP sign on leaving the Centre to avoid any accident. Thank you for your cooperation.
Enrolment for 2019/20 Cantonese Catechumen class is now closed. New class will commence in February next year. For details please contact Mr Chow 0403 589 375 / Mr Chan 0422 231 328 / Mrs Rachel Lo 0410 342 890.
Chinese Catechism Corresponding Course is open to people who cannot attend our catechism class in person。Please encourage your non-believer friends and relatives to enrol。Please contact Mrs Elsa Tang on 0401 058 199 for details.
Catechism Refresher gathering meets on Sundays at 1.30pm and the venue is Meeting Room # 2 located on the first floor of St Peter Julian's Church. All are welcome to join us.