團體活動
31/8 (星期六) 下午二時至四時 亞洲中心
每月的團體明供聖體聚會。歡迎各位邀請家人或朋友前來在耶穌聖體前一起禱。
31/8 晚上八時至九時半 亞洲中心
FLY 青年組的敬拜讚美之夜誠意邀請各青少年參與我們舉辦的敬拜、讚美和明供聖體晚會。查詢,請聯絡 Jen 0408 180 833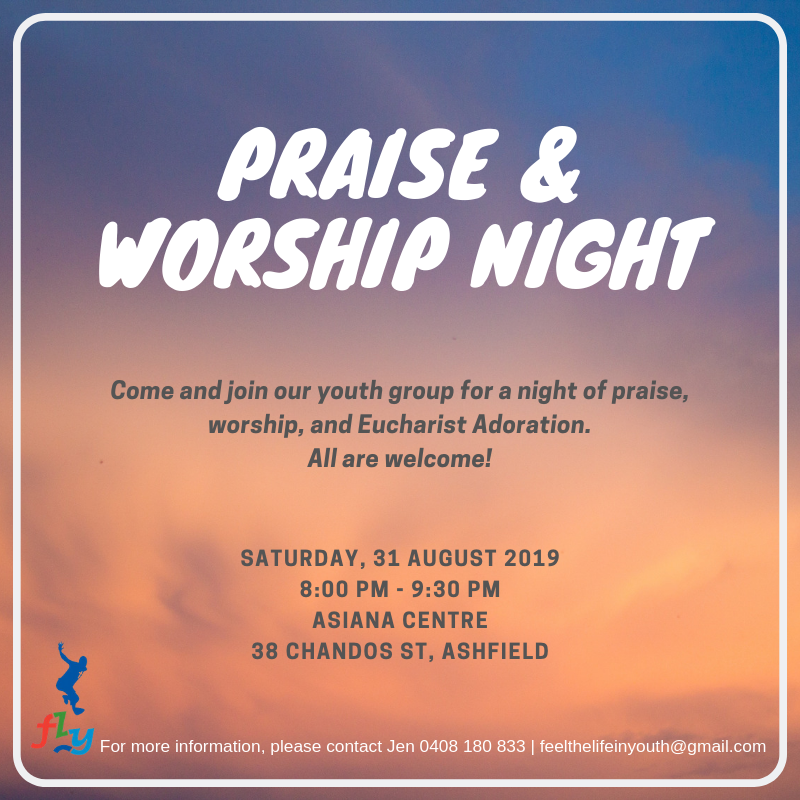 7/9 (星期六) 上午十一時 Balmain Ferry Wharf
耶穌聖心善會舉辦 Mort Bay Park 海灣公園漫步。歡迎大家踴躍參加。大家請準時集合,逾時不候。請帶備午餐、水、帽子、太陽眼鏡、太陽油、外套,請穿著舒適而方便行走的鞋。報名或查詢,請聯絡 George Wong 0407 525 618 或 Helen Wong 0416 565 076。

請各駕車人仕進出亞洲中心時留意行人的安全,特別是離開亞洲中心時,請遵守「停」路標的指示,以免發生意外,多謝合作。
2019/20 粵語成人慕道班已截止收生;新班將於明年二月開課,詳情請向周先生 0403 589 375 / 陳先生 0422 231 328 / 盧太 0410 342 890 查詢。
中文天主教教義函授課程是為不能抽空出席慕道班的人士而設。請介紹親友參加。有興趣者請向鄧女士 (0401 058 199)查詢。
再慕道聚會星期日下午一時半在聖伯多祿朱廉教堂二樓議室舉行。 歡迎各位參加。
Upcoming Events
31/8 (Sat) 2pm to 4pm Asiana Centre
Community Monthly Eucharistic Adoration.
31/8 8pm to 9:30pm Asiana Centre
FLY Praise and Worship Night Come and join our Youth group for a night of praise, worship, and Eucharistic Adoration. All are welcome! For more information, please contact Jen 0408 180 833

7/9 (Sat) 11am Balmain Ferry Wharf
Sacred Heart of Jesus Sodality will be organising a walk - Mort Bay Park, Birchgrove. All are welcome. Please bring your own lunch, water bottle, hat, sunglasses, sun screen and jacket. Please wear comfortable walking shoes. To register or enquiry, please contact George Wong 0407 525 618 or Helen Wong 0416 565 076

Please beware of pedestrians when driving in and out of Asiana Centre. Strictly observe the STOP sign on leaving the Centre to avoid any accident. Thank you for your cooperation.
Enrolment for 2019/20 Cantonese Catechumen class is now closed. New class will commence in February next year. For details please contact Mr Chow 0403 589 375 / Mr Chan 0422 231 328 / Mrs Rachel Lo 0410 342 890.
Chinese Catechism Corresponding Course is open to people who cannot attend our catechism class in person。Please encourage your non-believer friends and relatives to enrol。Please contact Mrs Elsa Tang on 0401 058 199 for details.
Catechism Refresher gathering meets on Sundays at 1.30pm and the venue is Meeting Room # 2 located on the first floor of St Peter Julian's Church. All are welcome to join us.